What is vinyl soffit?
Vinyl soffit is a popular choice for finishing the exterior of homes as it provides both aesthetic appeal and protection from weather elements. Made of durable and fade-resistant vinyl, it comes in various styles such as horizontal panels, vertical planks, and decorative shakes or shingles. Two common types of vinyl soffit are solid core, which provides extra insulation, and vented, which allows for air circulation and helps prevent condensation buildup. Vinyl soffit can be easily painted over, and some brands even offer warranties up to 25 years, making it a cost-effective option for homeowners looking for a low-maintenance and customizable siding solution.
What factors should I consider?
When searching for a contractor to install or repair vinyl soffit on a home, it is essential to evaluate various aspects of the company, such as their reputation, level of experience, and cost. Additionally, it is important to consider the quality of the materials they use and the expertise of their workmanship. Homeowners should keep these key factors in mind when making a decision:
Reputation: A company with a good reputation is likely to provide high-quality services and stand behind their work. To research a company's reputation, homeowners can look for reviews and ratings from past customers, as well as ask for references from the company itself.
Experience: A company with a long history of working with vinyl soffit is likely to have the necessary knowledge and expertise to handle any challenges that may arise during the installation or repair process. This experience can be especially important in complex or difficult situations.
Pricing: While pricing is an important factor to consider, it should not be the only factor. It is important to get quotes from multiple companies and compare their prices, but it is also important to consider the value of the services being provided. A company that offers a lower price may not always provide the same level of quality as a company that charges more.
Materials: The materials that a company uses for the installation or repair of the vinyl soffit can have a big impact on the longevity and effectiveness of the soffit. Using high-quality materials can help to ensure that the soffit will last for many years and provide the necessary protection and ventilation.
Workmanship: The quality of a company's workmanship is also important. A company that takes pride in their work and pays attention to detail is likely to provide a higher-quality installation or repair than a company that rushes through the job.
By considering these important factors, homeowners can make an informed decision and select a company that offers high-quality services and represents a good value for the cost.
Why should I choose Cardinal Gutters?
Homeowners should choose Cardinal Gutters for their vinyl soffit installation or repair needs due to their reputation as a reliable company with a history of providing high-quality services. They employ a team of experienced professionals who possess the knowledge and skills to properly install and repair vinyl soffit. Cardinal Gutters is dedicated to using the best materials available, which guarantees the longevity and effectiveness of the vinyl soffit. They also offer fair and transparent pricing and are willing to work with homeowners to find a solution that fits their budget. They also provide free estimates. In addition, Cardinal Gutters is dedicated to customer satisfaction and offer a satisfaction guarantee. They are known for their attention to detail and dedication to high-quality workmanship which sets them apart from their competitors.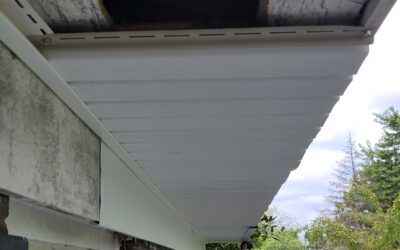 In the picturesque landscape of Louisville, Kentucky, where historic homes blend seamlessly with contemporary living, the significance of proper home maintenance cannot be overstated. Among the vital components of your home's exterior, the soffit plays a pivotal role,…
read more