What is a drip edge?
Drip edge is a metal flashing used to protect the roof from water damage. It is typically made from galvanized steel, aluminum or copper that has been shaped into an L-profile. The lower portion of the drip edge extends outward beyond the roofing material and helps direct water away from seams and shingle edges, preventing moisture from seeping up under shingles which can cause rot, mold, and other types of damage over time. Drip edges are typically installed at the eaves and rakes of a roof, along with other areas where two different surfaces meet. The most common installation method is to lay it directly over the sheathing before applying any type of roof covering such as asphalt shingles or tile. Additionally, it is important to ensure there's enough overlap between pieces for proper drainage on low-slope roofs and to drive nails through both sides in order to keep it secure against wind uplift forces during storms or high winds events. Some homeowners may choose colored versions to match their existing trim for an aesthetically pleasing look.
Why is it important?
Installing a drip edge on your house is a crucial step in protecting your roof and underlying structures from water damage. Drip edge directs rainwater away from the eaves, preventing water infiltration and structural damage. In addition, it improves the aesthetic appeal of your roof and helps keep shingles in place by preventing water from seeping underneath. This can prevent costly repairs or replacements from occurring. Drip edge also provides added protection against ice dams forming along eaves during the winter and can reduce energy costs by creating a barrier between warm and cool air. This extra insulation may even qualify you for certain tax credits. When properly installed, drip edge also provides additional support for gutters, keeping debris out and preventing clogging and overflow. Overall, drip edge is essential for maintaining both the form and function of any residential roofing project.
Why Should I hire Cardinal Gutters to install my drip edge?
If you're in need of drip edge installation, Cardinal Gutters is a great choice. They offer a wide range of services and have been in business for over four decades, earning a solid reputation for providing high-quality work at competitive prices. Their team of experts are highly skilled in the proper installation of drip edge to ensure that it lasts longer and looks better than other brands. Additionally, all their products come with a 10-year warranty against defects or breakage due to normal wear and tear. Cardinal Gutters stays up-to-date on the latest trends in gutter installation technology and uses top-quality materials such as aluminum sheets, vinyl flashing, rubber seals and more, ensuring each job looks great and lasts longer. They also offer custom designs if needed. Cardinal Gutters offers fast turnaround times and friendly customer service throughout each project, ensuring that you get the finished product quickly without any issues. They understand the importance of proper installation when it comes to protecting your home from water damage, which is why all their technicians go through extensive training before being allowed on job sites. With Cardinal Gutter's commitment to excellence and dedication to customer satisfaction, hiring them for drip edge installation is a wise decision.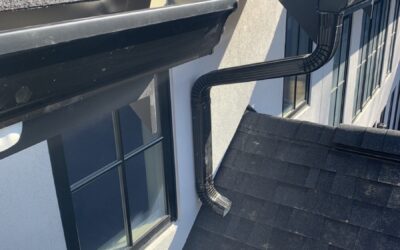 If you're looking to enhance the look of your home and protect it from water damage at the same time, gutter aprons from Cardinal Gutters in Louisville, KY may be the perfect home improvement solution for you. Gutter aprons are one of the most important aspects of a…
read more