What are gutters?
Gutters are installed at the edge of the roof, known as the eve, to collect rainwater and prevent it from causing damage to the eve and foundation of a home. Despite being a useful technology, there are still some places where gutters and gutter systems are not widely used or understood. When it rains, the gutter collects the water and directs it through a downspout to a controlled location, where it can safely exit the house without causing damage.
What are Seamless Gutters?
Gutters are made from metal, which is shaped and formed through the use of specialized machines. In the past, these machines were typically located at shops and gutters had to be formed off-site before being transported and installed on homes. To accommodate this process, gutters were typically made in 10-foot sections and then pieced together during installation to cover longer stretches of the roof.
Portable gutter machines were eventually developed, which allowed gutter installers to form gutters on-site at the home instead of at a shop. This innovation enabled installers to create gutters in custom lengths, eliminating the need for seams every 10 feet and resulting in the development of seamless gutters. Seamless gutters require less maintenance and are easier to install, which has helped to keep prices down over time.
Why do I need them?
The importance of proper gutter installation and maintenance cannot be emphasized enough. In recent years, building inspectors have begun to recognize this and many municipalities now require gutter installation for all new residential construction. Some reasons for the significance of gutters include:
The surrounding soil is stabilized
Foundation issues can be prevented
Basement and under-house flooding can be avoided
By preventing erosion, lawn and landscaping are preserved.
Siding water damage can be avoided
Masonry made of brick and stone helps avoid water stains.
Driveways, patios, and walkways can decrease settling and cracking
It is possible to maintain overhead garage doors and outside doors.
Things to look out for
The advent of portable seamless gutter machines has made starting a gutter business a relatively easy and straightforward endeavor within the remodeling industry. While this increase in competition can lead to lower prices for consumers, it also means that there are many inexperienced or short-lived companies to choose from, which can result in service issues and subpar workmanship. This can lead to the need for additional repairs and higher costs for the consumer in the long run.
When selecting a company for your gutter project, it is important to choose a reputable and established business that you can trust to stand behind their work. This will ensure that the project is completed to a high standard and that you have recourse if any issues arise.
Why Choose Cardinal Gutters?
Cardinal Gutters is a well-established gutter installation company that is equipped to handle all aspects of your project with professionalism. Our management team has a wealth of experience in the gutter industry and all of our estimators and installers are held to high professional standards. We work diligently to ensure that your project runs smoothly from start to finish.
At Cardinal Gutters, we provide warranties on both our workmanship and the materials we use for your project. We source our materials locally to support other businesses in the area and we hire local employees to contribute to our community. We are proud to operate in this region and strive to make a positive impact.
When you choose Cardinal Gutters, you can trust that our estimators have your best interests in mind, and that our installers are skilled and take pride in their work. Our management team holds us accountable to the promises we make, and if we fall short of our goals, we will do everything we can to make it right for our customers. We strive for excellence in every aspect of our work.
We are confident that you will be satisfied with your choice to work with Cardinal Gutters on your next seamless gutter project. Click the button below to get your free estimate today.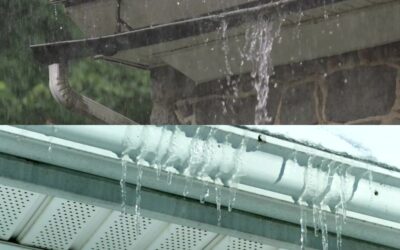 When it comes to protecting your home from the elements, gutters play a vital role in directing rainwater away from your property's foundation. However, choosing the right gutter materials for your climate zone is equally essential. Different climates present unique…
read more